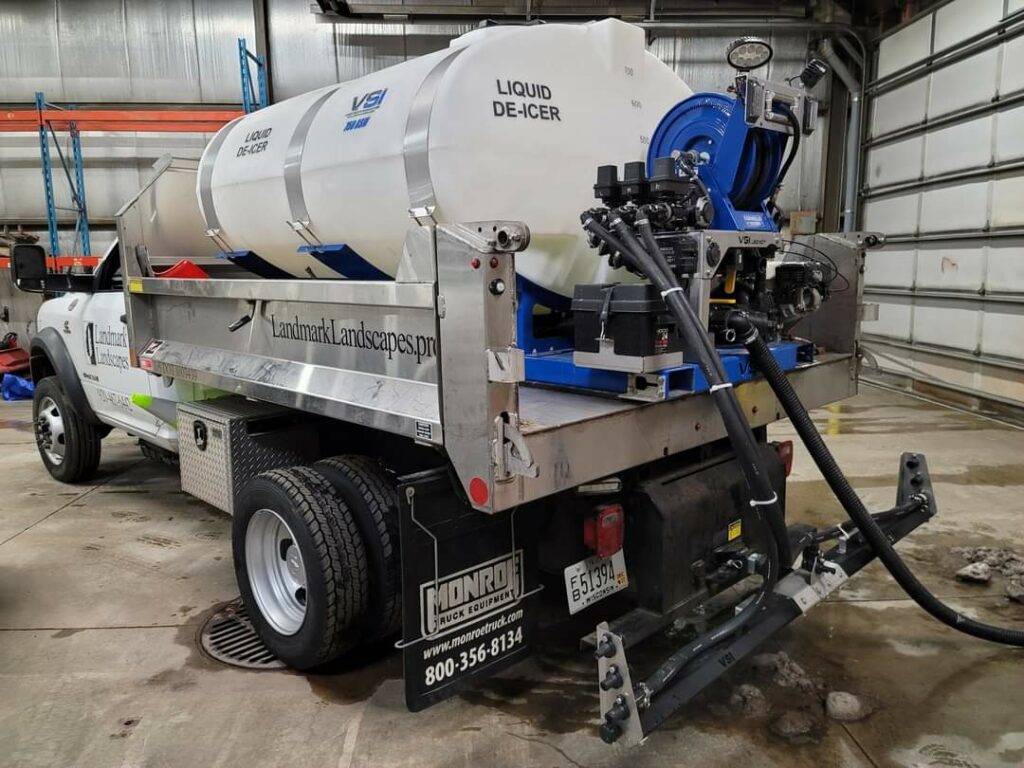 When it comes to snow and ice management, Landmark Landscapes' focus is the safety of our clients and the ones they care about. Our ethos is Art Through Ecology for more Vibrant Communities. This transcends our landscape work to include our snow and ice management services. Liquid Brine is better for the environment. For these reasons, we have been using Liquid Brine as part of our cache of snow and ice management tools.
What is Brine? How does it work?
Brine is a solution of salt – sodium chloride – and water. Brine can be used as an anti-icing agent because it has a freezing point lower than pure water. For this reason, it is a valuable tool in reducing the adhesion of snow and ice to pavement surfaces.
Because brine can be used as an anti-icing agent it can be applied prior to a snow and ice event. This proactive approach decreases the likelihood of snow and ice bonding to a pavement surface. Brine can also prevent frost from forming on pavement.
Additionally, brine can be used as a deicing agent. It is beneficial with extreme temperature drops in which granular salt can be ineffective. To combat the effects of ice in extreme temperature conditions Landmark Landscapes has the capability to mix additives into the brine to enhance its ability to control ice when the tundra is frozen. These additives can range from liquid calcium chloride, and magnesium chloride to liquids derived from beets, molasses, or even pickle juice.
How does brine differ from salt?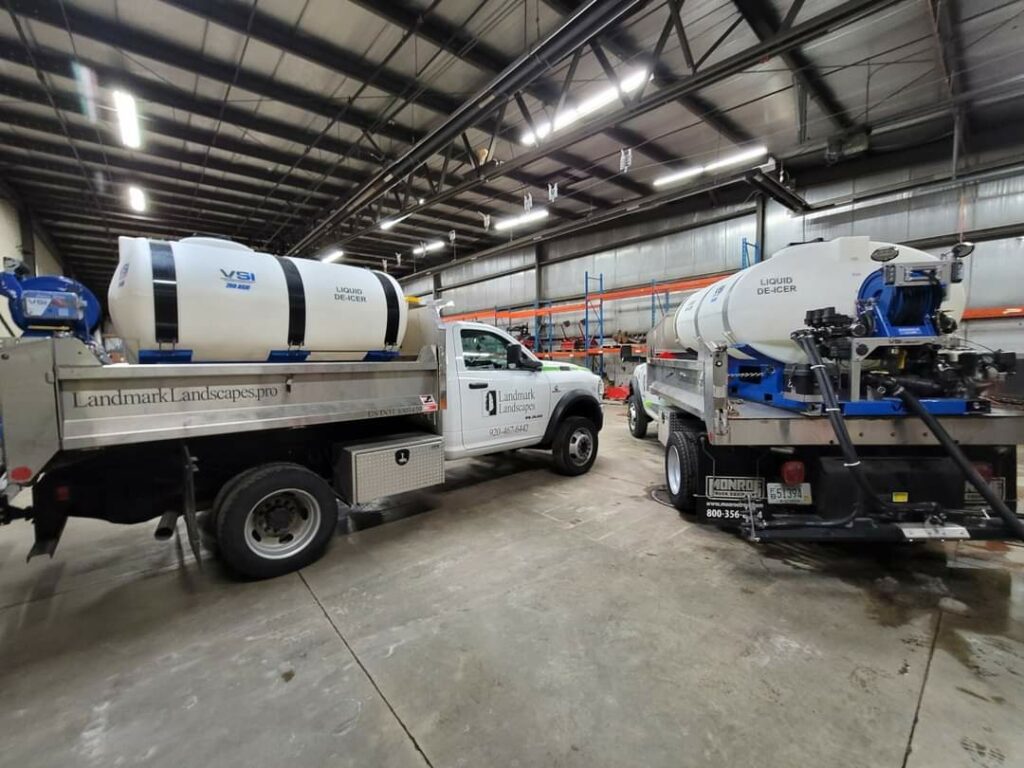 You may be wondering how brine differs from salt. As brine is both an anti-icing and deicing agent, salt is strictly a deicing agent that is used retroactively after snow and ice have bonded to pavement surfaces. Salt is certainly a useful component in the management of snow and ice. We Wisconsinites are well aware that winter comes with a diverse set of conditions and is often unpredictable. So the need to use both brine pre and post-storm events and or salt is a reality.
Brine is dynamic in use – Better for the environment
Brine can also be used as a mix-in additive when applying granular salt. This creates several desirable results. The application of brine is easier to control than the bounce and scatter nature of salt. Salt tends to bounce uncontrollably and can land in unintended areas such as plant beds, lawns, lakes, streams, and rivers. Furthermore, using brine as a pre-wet for granular salt can improve the salt's ability to control ice in lower temperatures. And most importantly, when used as a pre-wetting agent it allows us to use up to 30% less rock salt than compared to using rock salt alone. This is a win for the environment.
The other advantage of using an anti-icing agent is that it is easier and more efficient to remove snow and ice after an event. It also means the pavement has less residual snow and ice adhering to it even after the snow and ice have been removed. Which makes for cleaner surfaces. This makes areas like parking lots, sidewalks, and driveways safer for vehicular and foot traffic. It also reduces the amount of salt left on the pavement that ultimately gets tracked inside commercial properties or even your home.
To learn more about brine and to understand if it can be an effective tool against snow and ice on your property contact us today to be put in touch with one of our account managers.
Landmark Landscapes of Sheboygan Falls, WI is a full-service landscape company. Based out of Sheboygan County, we are centrally located and uniquely positioned to service the areas of Sheboygan, Elkhart Lake, Fond Du Lac County, Green Lake County, Ozaukee County, Manitowoc County, and Door County. We can manage your property with our Total Property Care system, and design and build projects large and small. Contact us today at 920-467-6442 to learn how we can care for you.