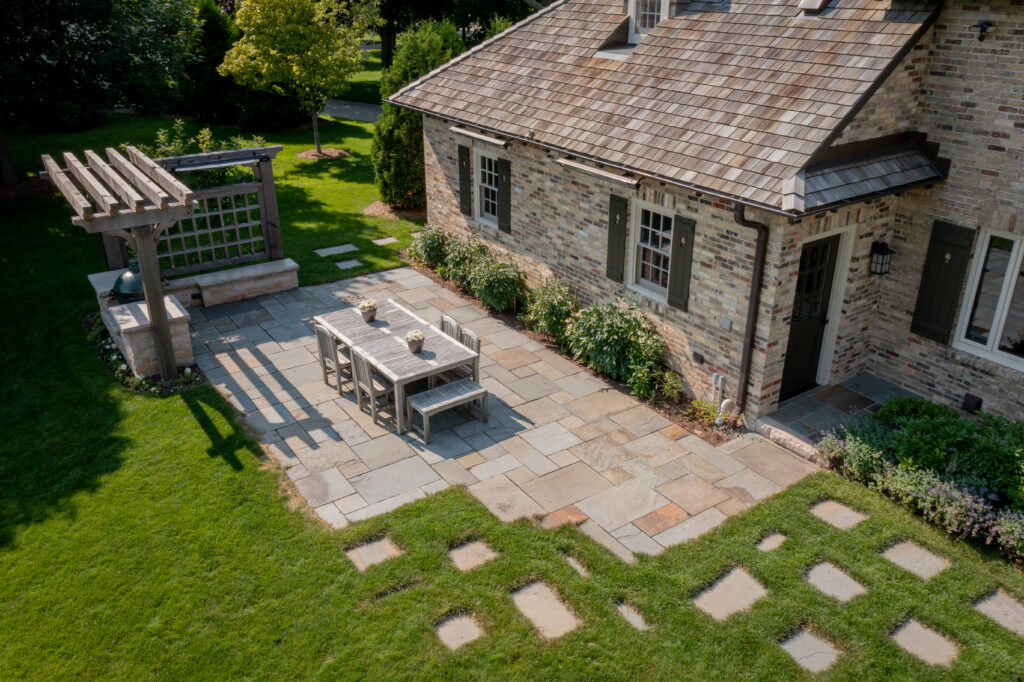 Thank you for choosing Landmark Landscapes as your paver specialist. Your new paving project has been installed to the highest standards and is in accordance with all applicable state and local laws, ordinances, rules, regulations and manufacturer's specifications. We have examined the paving and determined that it has been installed in a craftsmen like manner and built for long term durability. It is installed in accordance with the landscape plan and is properly placed in the landscape for the desired aesthetic effect. We have tested the paver project and confirmed that it is properly pitched for water drainage at this time. There are a few things to consider as you enjoy your new paver project, and we have outlined these below. If you ever have any questions please contact our office at (920) 467-6442 or contact your Account Manager.
General Maintenance
For the most part, stone, brick and concrete paver projects require virtually no maintenance. There are, however, local environmental conditions, certain types of use, and individual aesthetic preferences that may require you to perform some periodic care and maintenance to your paving installation. It is a good idea to inspect the paver project each spring and note if there has been any settling or shifting. Landmark Landscapes warrants all paver projects for 3 years. We will gladly fix any issues that may arise due to material or craftsmanship.
You should expect that the stones will naturally weather and darken with age. Many people find this natural patina aesthetically pleasing, some do not. A general cleaning performed each spring using a coarse-bristle "stable" broom and Unilock's General Purpose Paver Cleaner can help to maintain a clean new look. To prevent weeds from growing in the joints, follow the cleaning with an application of a granular weed pre-emergent herbicide. While dirt and algae stains are merely aesthetically unpleasing, some weeds, if left unaddressed, can push paver stones apart from each other.
The joints between paving stones are undoubtedly the most vulnerable areas of any paving stone installation. Depending on the climate and amount of use, even the most expertly installed patio may require attention to the joints at some time in its life.
When using a garden hose to clean a paved area, you should direct water at the surface at an angle not greater than 30º and across the diagonal (i.e., not parallel to the joints as the intensity of the water stream may be too harsh and may dislodge the jointing sand). A power washer may be used but you must exercise caution to avoid damaging the jointing sand or the surface of the stones and pavers. Many pressure washers have enough power to expose the aggregate on the surface of pavers or deteriorate natural stone. Nozzle style, distance from the surface and pressure (psi) are all factors which can affect the outcome. We recommend that you always test the cleaning on several spare stones left over from the original installation.
Finally, when using a cleaning product, the product must be thoroughly rinsed from the surface and channeled to suitable drainage points. Once the area has been cleaned, it should be inspected to ensure the integrity of the sand joints. Any eroded joints should be re-sanded as necessary.
Joint Sand Maintenance
During the first few months after a new installation, the joints between the paving stones are relatively porous. The infiltration of rain or other water eventually consolidates the sand in the joints. However, with very sloped installations, the sand can potentially wash out of the joints. It is important that these joints be topped up with jointing sand to prevent the sand-bedding layer below from washing out, causing the pavers to settle. Keeping the joint sand topped up is also one of the best ways to prevent weed seeds from settling between the joints and germinating. To prevent weeds from taking root, we strongly recommend that paver joints be filled with Polymeric Jointing Sand. Preventing the sand from being washed or blown out of the joints is critical in this early period. Although regular jointing sand is acceptable for most applications, sloped areas, areas around swimming pools or any area subject to erosion should have Polymeric Jointing Sand swept into the joints at the time of installation. However, if regular jointing sand was used, you can also stabilize the joints by using Joint Sand Stabilizer Sealer.
Over time, the joints in a paving stone installation will become established and the joints will no longer erode. However, if wash-out occurs, we recommend "retrofitting" the joints with Unilock Polymeric Jointing Sand to re-stabilize the joints. For extra-wide joints or areas subject to heavy erosion, use a polymeric sand designed for large joints.
If you decide that you would like to replace the regular sand in your paver joints with Polymeric Jointing Sand, you will need to first remove the existing sand. This can be done with a garden hose fitted with a jet nozzle, or it can be carefully done using a pressure washer. Care must be taken that no bedding sand from the area beneath the pavers gets washed out. It is imperative that manufacturer's directions are meticulously followed. Polymeric sand has the potential to haze or stain paving stones permanently, if installed incorrectly. If you have any doubts about your ability to handle this project please call us. Landmark Landscapes is happy to offer the service of retrofitting pavers with polymeric sand.
Efflorescence 
Efflorescence is a naturally occurring powder-like deposit, usually white, that occasionally develops on the surface of concrete, often just after an installation is completed. Although unattractive, efflorescence is usually not a problem and will generally disappear on its own over time.
Efflorescence is caused by the soluble salts in the raw material used in manufacturing, and may react with moisture, humidity and frequent temperature fluctuations. These elements wick any salts that are present to the surface. In the summer, after periods of rain, the moisture evaporates so quickly that small amounts of salt are brought to the surface.
Removing Grease and Oil Stains
Much like your indoor living area, your outdoor living area may require periodic cleaning. Certain stains, such as those from soft drinks, barbeque grease, cooking or salad oils, or snack foods, can be stubborn to clean. Old stains resulting from oil dripping onto a driveway from a vehicle can also be difficult to remove. Oil will penetrate readily into a paved area but will not stain if the spill is removed promptly with granular oil absorbent. Spills should be soaked up, not rubbed, because rubbing will spread the oil over a larger area, driving the stain deeper into the concrete. Hint: Always keep some paper towels handy in the garage, as well as a small pail of oil-absorbent material such as cat litter, for those unexpected spills. For very small oil spills, a small amount of laundry detergent may also work.
UNILOCK General Purpose Cleaner
This cleaner removes dirt, grease and oil from paving stones and concrete. It removes ground-in dirt and can be used on unsealed or previously sealed surfaces. An oil spot that has soaked into the concrete may resurface 24 hours after cleaning. If this happens repeat the cleaning process. An oil stain on a light-colored surface may still be slightly noticeable after cleaning, but it can be significantly lightened by using Unilock Paint and Tar Remover. Always trial clean first. If there is no negative surface or color reaction, proceed. Spills should always be soaked up and not rubbed.
Removing Moss
Moss is one of those things that one person considers a nuisance and another considers attractive, adding to the "country" or "old English" look and feel of the installation. Moss generally develops in shaded areas that are slow to dry up after rain. Installations in deep shade like on the north side of buildings and in woodlands are particularly subject to the emergence of moss. If you want to remove moss, it is recommended that you simply pressure wash the surface after applying a solution of 20% dish soap and 80% water to the surface. Do not use the pressure washer on high power when rinsing, or you risk damaging the surface. Always keep the nozzle at a 30° angle to the surface and use the fanned nozzle setting. If some jointing sand washes out, you may need to sweep in some new sand. Removing moss may need to be done annually, depending on the location and conditions.
Hint: If you like the look of moss but do not like its staining aspect, you can plant some creeping thyme seeds into the joints. This may not be suitable for all paving stone styles, but certainly is for those styles with large joints. This type of planting is not recommended on driveways or where surface integrity is critical.
Winter Maintenance and De-icing
We recommend that you always use a plastic or rubber blade for removing snow from paving stones. This means that you should use a plastic shovel and your snow blower should also be fitted with a plastic shoe on the adjustable gliders and on the scoop edge. Hint: If you hire someone to plow your driveway, you must have your snow clearing firm confirm in writing that it has protective edges on the snowplow to avoid scratching the surface. Landmark landscapes offers snow removal services with equipment specially fitted with rubber blades to help protect your investment. Although the metal on snow clearing equipment will not adversely affect paving stones structurally, the contact of any steel on concrete and stone can potentially leave tiny particles of metal on the surfaces of the stones which will rust and leave unsightly brown streaks after a couple of months. (A good example of this can be seen on the municipal curbs at the street. Take a close look and you will see what the snowplows have done.)
De-icing substances, when used in proper amounts, will not damage good-quality concrete or stone. They will, however, speed up the surface wear on some styles of pavers. Many of the exposed aggregate products and tumbled products are unaffected by virtue of their style.
• Sodium chloride (common rock salt) is the most popular de-icing salt. It is widely available and it will melt snow and ice at temperatures down to approximately 16° F (-9° C). Below 16° F (-9° C), rock salt stops melting snow and ice. Sodium chloride can damage adjacent grass, plants and metal. Apply with caution and use as sparingly as possible.
• Mix with sand to increase effectiveness and to reduce the amount of salt used. Do not use calcium chloride, potassium chloride or magnesium chloride. These will have harmful effects on the concrete.
Hint: If you do not know what is in your de-icing material, do not use it on concrete surfaces; just use sand to prevent slipping and sliding.
Note: Fertilizers that contain ammonium nitrate and ammonium sulfate should not be used for de-icing since these substances attack the integrity of concrete. Always read manufacturers' recommendations for use and heed all warnings and cautions.
Landmark Paving Services
Please consider us your partner in the long term maintenance of this landscape investment. In addition to answering any questions that may arise, we also offer comprehensive landscape maintenance and masonry services. We can provide patio upgrades including built elements such as fire pits, fireplaces, grills, wet bars, etc. as well as patio expansions, should you find a desire to modify your existing paving in the future. Landmark Landscapes also carries all of the products and replacement stones mentioned above. If you have any questions or would like to schedule an inspection, general maintenance visit, or enhancements of your patio or paver project, please call our office at (920) 467-6442, or contact your Account Manager.
Contact Us Today
Landmark Landscapes of Sheboygan Falls, WI is a full-service landscape company. Based out of Sheboygan County, we are centrally located and uniquely positioned to service the areas of Sheboygan, Elkhart Lake, Fond Du Lac County, Green Lake County, Ozaukee County, Manitowoc County and Door County. We can manage your property with our Total Property Care system, design and build projects large and small. Contact us today at 920-467-6442 to learn how we can care for you.