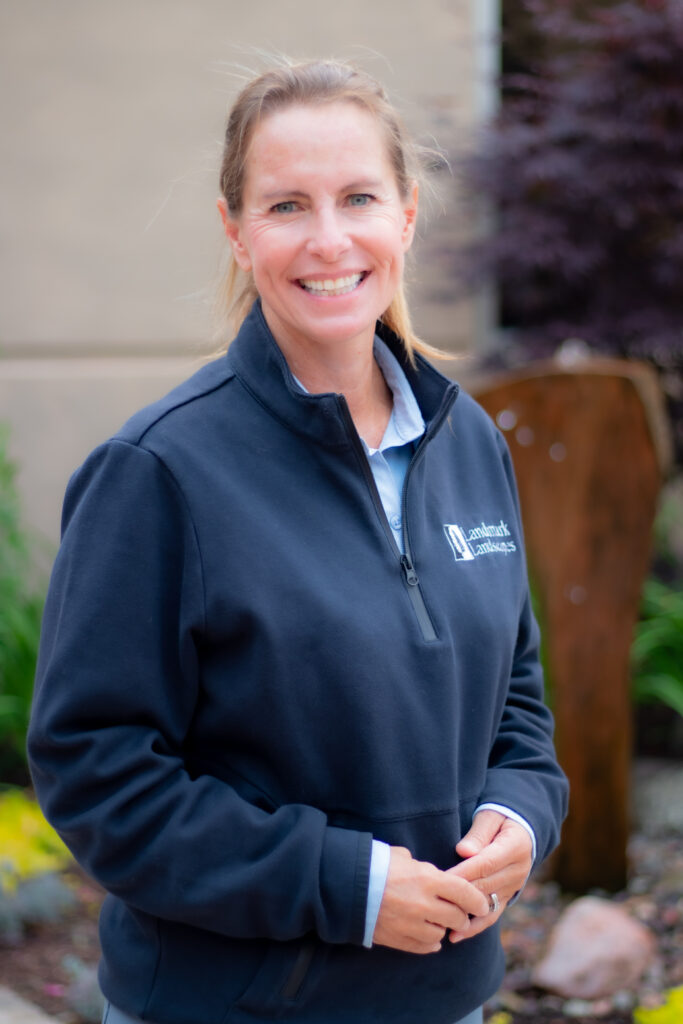 Clare Kahn is a Senior Account Manager with Landmark Landscapes, who specializes in landscape maintenance. If you have the good fortune of working with Clare you will come to understand that Clare sweats the details, and wants your property and outdoor living spaces to be immaculate.
With over 35 years of landscape experience, Clare is well-skilled to handle all of your landscape maintenance needs. Whether your needs are residential or commercial property, Clare's background enables her to create a landscape maintenance plan that will have your turf and gardens flourishing.
Clare started her career in the landscape industry when she was just 16 years old and in high school. She participated in a school-to-work coop job at the Paine Art Center and Gardens in Oshkosh, Wisconsin. While in college at UW-River Falls, she earned a degree in Horticulture. During this time she worked at Longwood Gardens in Kenneth Square, Pennsylvania, and the renowned Sarah P. Duke Gardens at Duke University. After graduating from River Falls she went on to own her own business in St. Louis, Missouri.
When working with Clare you'll come to understand that she is a great communicator, she takes great pride in providing personal service, she is detailed and she will educate you on the process. Clare works to build relationships with her clients. It's important to her that the experience you have with her and Landmark is not transactional, but personal.
Clare's love of the garden is not limited to just her profession. She spends much of her time outside of work in her garden. It's very much her passion. She loves tropical plants and has eight palm trees she overwinters in her basement.
You will enjoy working with Clare. Her passion for gardening is genuine and her desire to assist you with your gardening needs will allow you to have the best landscape in the neighborhood!
Contact Us
Landmark Landscapes of Sheboygan Falls, WI is a full-service landscape company. Based out of Sheboygan County, with a satellite office in Green Lake, Wisconsin. We are centrally located and uniquely positioned to service the areas of Sheboygan, Elkhart Lake, Fond Du Lac County, Green Lake County, Ozaukee County, Manitowoc County, and Door County. We can manage your property with our Total Property Care system, and design and build projects large and small. Contact us today at 920-467-6442 to learn how we can care for you.