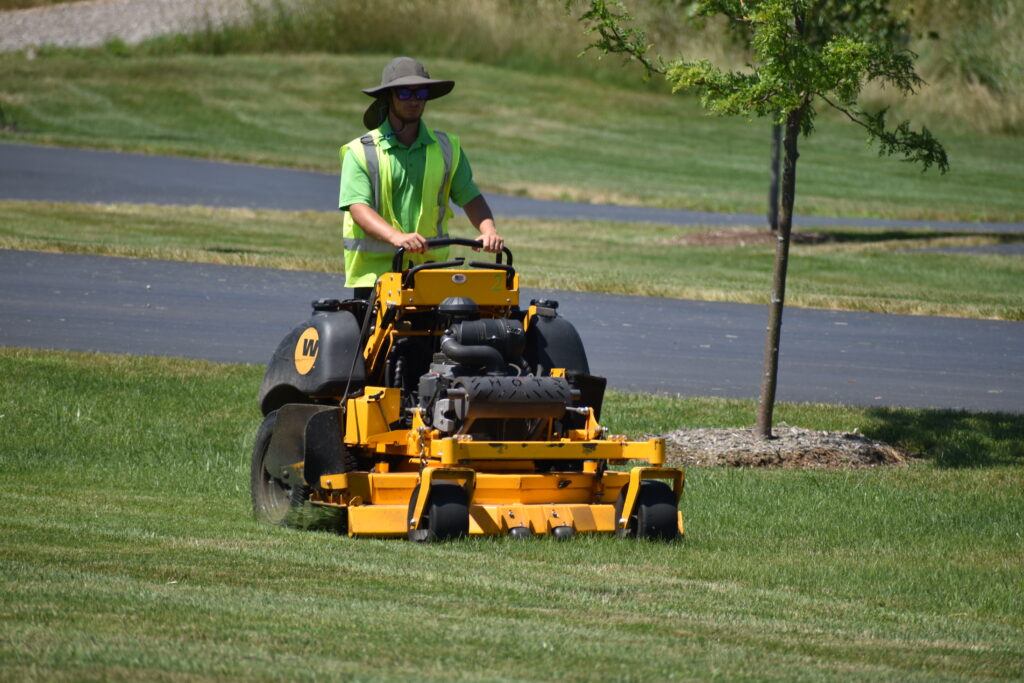 Landmark Landscapes' turf maintenance team of professional technicians is driven to be a cut above the competition. Our job is not just to mow your grass, but to maintain your turf and optimize its performance and quality while being the stewards of your landscape and gardens. We perform this service so you can have green and healthy turf and more time to relax and enjoy your property.
Service Areas
Based out of Sheboygan Falls, Wisconsin, our technicians service clients throughout Sheboygan County, Manitowoc County, Ozaukee County, Fond du Lac County, Winnebago County, and as far west as Green Lake, Wisconsin.
Safety Focused Technicians
Our technicians are experienced, safety-focused and passionate about their craft. They arrive at your property in uniform utilizing the best equipment in the industry that is selected for your specific site. Landmark Landscapes' equipment is regularly inspected and maintained and our mower blades are sharpened weekly.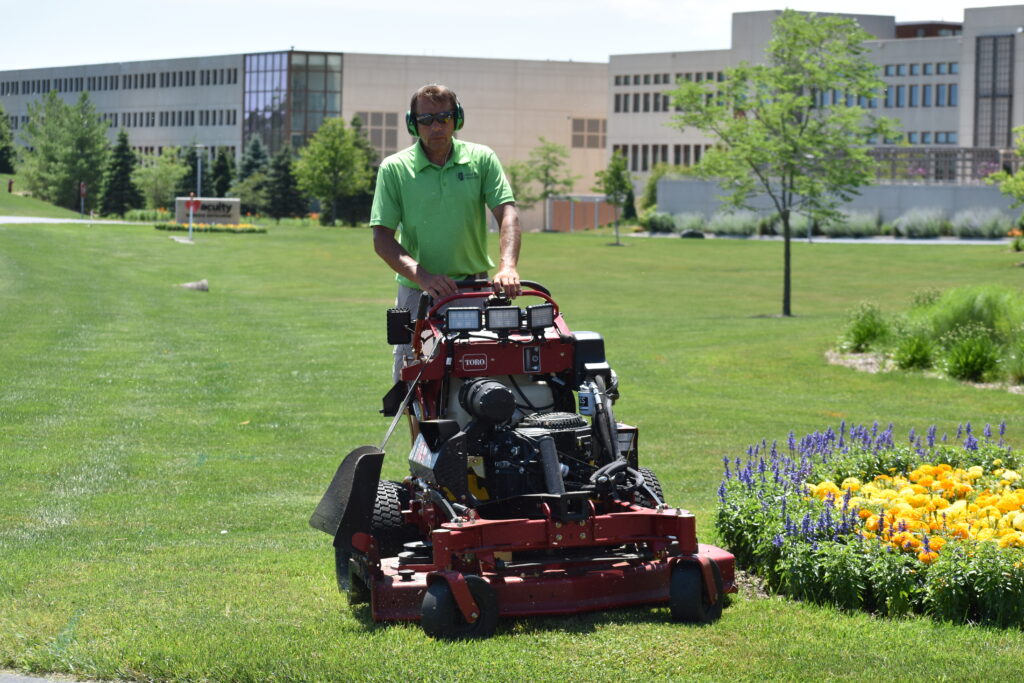 What Our Clients are Saying
"Our yard never looked better, their uniformed employees are professional and knowledgeable. The edges are always trimmed, and the walkways are always left looking tidy and neat. We are lucky to have them and appreciate their attention to small details that make a difference between a yard and a great yard."
Landmark Landscapes Client, Elkhart Lake, Wisconsin
Quality Is In the Details
Landmark Landscapes' focus on quality comes down to sweating the details. In addition to mowing, our technicians will pick up trash and sticks before or while mowing, trim bed edges and hard surfaces, and blow off hard surfaces after mowing. Consideration is even given to the properly sized vehicle to reach your site. One aspect our technicians take great pride in is laser straight turf lines. This detail is a testament to their on-the-job focus.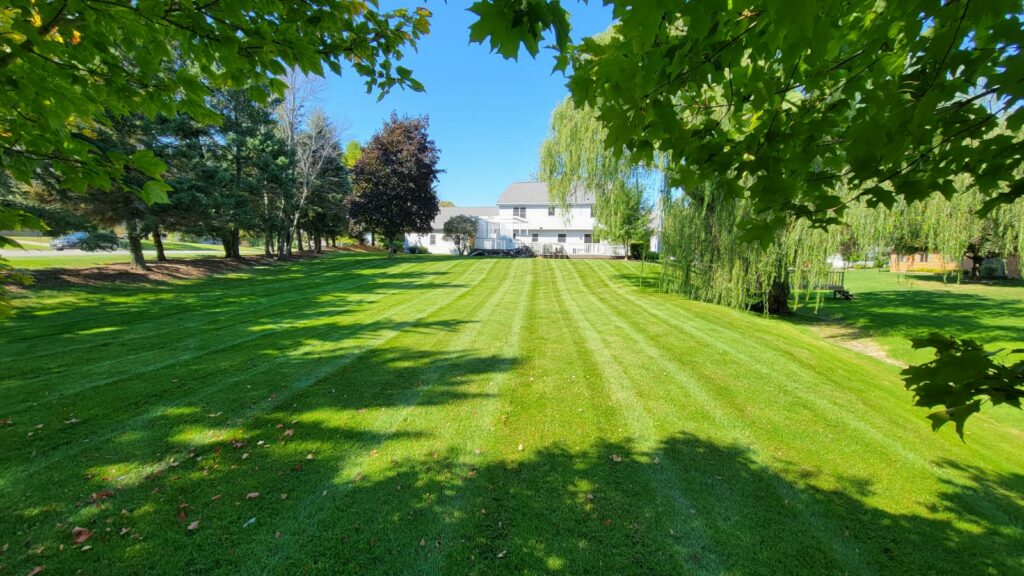 Multifaceted Approach
Client satisfaction with Landmark Landscapes turf maintenance services is attributed to our multifaceted approach to turf maintenance.
Customized Turf Maintenance Program for your property – Control quantity of turf maintenance visits and pricing based on square footage
Mow & Vacuum Services for Fall Leaf Cleanup
Lawn Applications: Fertilizer, Winterizer, and CrabGrass Preventative and Broadleaf Weed Control
Summer Insecticide for treatment of grubs and other Insects and pests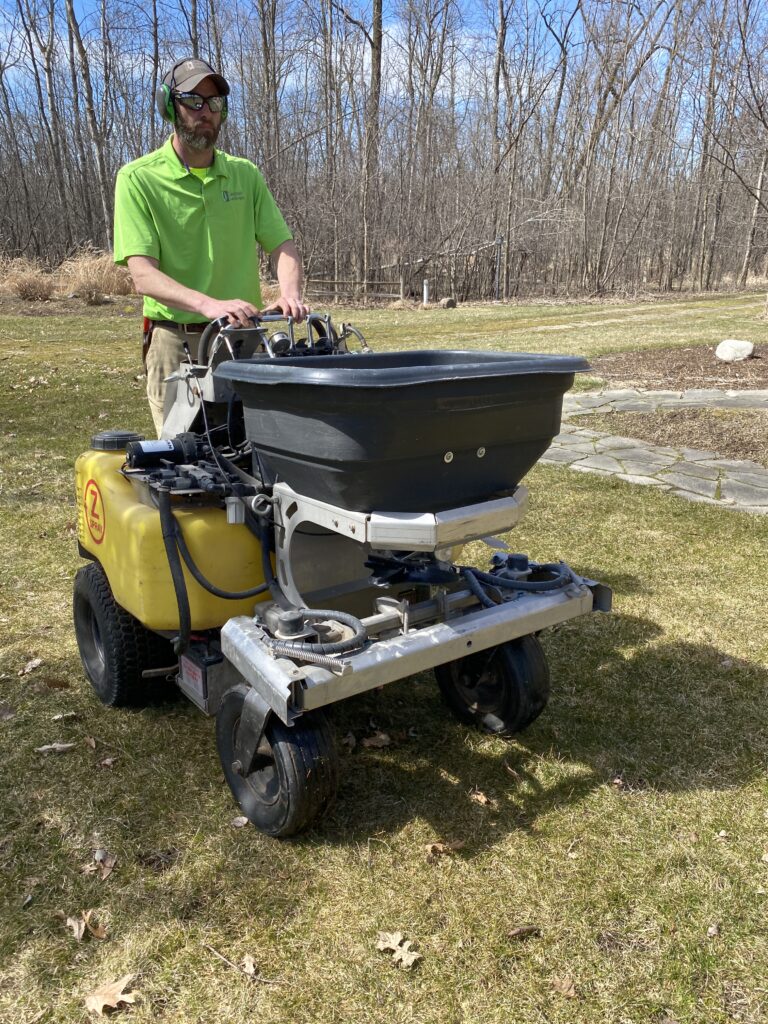 In addition to services provided in the Five Step Turf Program, Landmark Landscapes can provide dethatching services in the spring to remove accumulated organic matter to aid in creating a lush green lawn. We can also aerate the turf in the fall to reduce soil compaction.
Contact Us Today
Landmark Landscapes of Sheboygan Falls, WI is a full-service landscape company. We are based out of Sheboygan County, with a satellite office in Green Lake, Wisconsin. We are centrally located and uniquely positioned to service the areas of Sheboygan, Elkhart Lake, Fond Du Lac County, Green Lake County, Ozaukee County, Manitowoc County, and Door County. We can manage your property with our Total Property Care system, and design and build projects large and small. Contact us today at 920-467-6442 to learn how we can care for you.