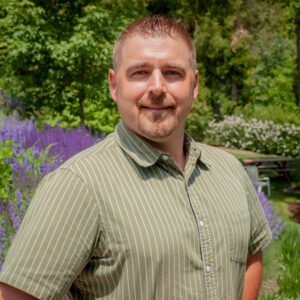 Ryan Risse is an Account Manager with Landmark Landscapes and is very passionate about his work. Ryan has over twenty years of landscape experience. He started in the industry while still in high school, working at Quit Qui Oc Golf Course in Elkhart Lake, Wisconsin. Prior to Ryan coming to Landmark Landscapes he worked for landscape contractors in the Metro-Milwaukee area. Additionally, Ryan earned a Bachelor of Science degree in Horticulture with an emphasis in Landscape Management from UW-Plateville.
If you are working on a design-build type project you can expect Ryan to be detail-oriented and will use creativity to solve problems while creating a beautiful space for you to share with your family and friends. When working with clients aim to customize your space to your personality and lifestyle.
When designing elaborate projects Ryan has the ability to bring projects to life by rendering 3-D video walkthroughs. This ability allows clients to really understand what their new outdoor space will look like and how they will be able to utilize it.
One of Ryan's many exceptional projects is a Nature Play installation Landmark Landscapes constructed for Camp Y-Koda. Ryan designed and even did some of the construction of the project. This project, in particular, demonstrates Ryan's passion and desire to get all the details just right.
You will enjoy working with Ryan, and you will benefit from his expertise in designing and building exceptional outdoor spaces.
Contact Us
Landmark Landscapes of Sheboygan Falls, WI is a full-service landscape company. Based out of Sheboygan County, with a satellite office in Green Lake, Wisconsin. We are centrally located and uniquely positioned to service the areas of Sheboygan, Elkhart Lake, Fond Du Lac County, Green Lake County, Ozaukee County, Manitowoc County, and Door County. We can manage your property with our Total Property Care system, and design and build projects large and small. Contact us today at 920-467-6442 to learn how we can care for you.