If you clicked on this link then you are very likely to be in the discovery phase of your Landmark Landscapes journey. You're curious and willing to take the first step, interested in gathering some information before you move onto the next phase of this endeavor. And that's fantastic. People like you are who we are looking for. Someone who gives some thought to their actions. Eager to make good decisions and wise choices.
The goal of this article is to provide you with information and a peek behind the Landmark Landscapes curtain in an effort to provide you with the intel you need to understand who we are, what we do, why we do it, and where we are going. And after gathering this information you'll be excited and eager to join all of us on this journey.
Who We Are
Landmark Landscapes is an award-winning, family-owned-and-operated business, established in Sheboygan County over 30 years ago. Our ethos is "Art through Ecology." Meaning, working with nature and natural elements to create and maintain beautiful outdoor environments. Which means as a team member of Landmark Landscapes you will work on some of the most beautiful properties in southeastern Wisconsin.
As mentioned previously, Landmark Landscapes is a family owned business. It is a partnership between Suz, Jesse and Joe Majerus. That family kinship flows throughout the organization. It's a culture in which we cheer on one another's success and pick each other up in challenging times.
Another part of the culture that shouldn't go unmentioned is the "Work Hard, Play Hard" mentality of the team. It's no secret that we work hard, that is kind of baked into the landscape industry. But the hard work gets celebrated. Organization-wide golf events, trap shooting, an afternoon at the beach, participating in the Elkhart Lake 4th of July parade and parties featuring great food from local establishments are just some examples of how Landmark says thank you for your commitment.
What We Do and Why We Do It
The easy answer to what we do is: We are a Landscape Contractor. But that doesn't tell the whole story. What brings us to work in the morning is the opportunity to craft and maintain beauty in the outdoors. Our ability to bring joy and serve our clients is also an important part of what we do. As an organization we have the ability to make our community a better place to live and do business. Are we a landscape contracting firm? Yes. But what we do, goes far beyond that.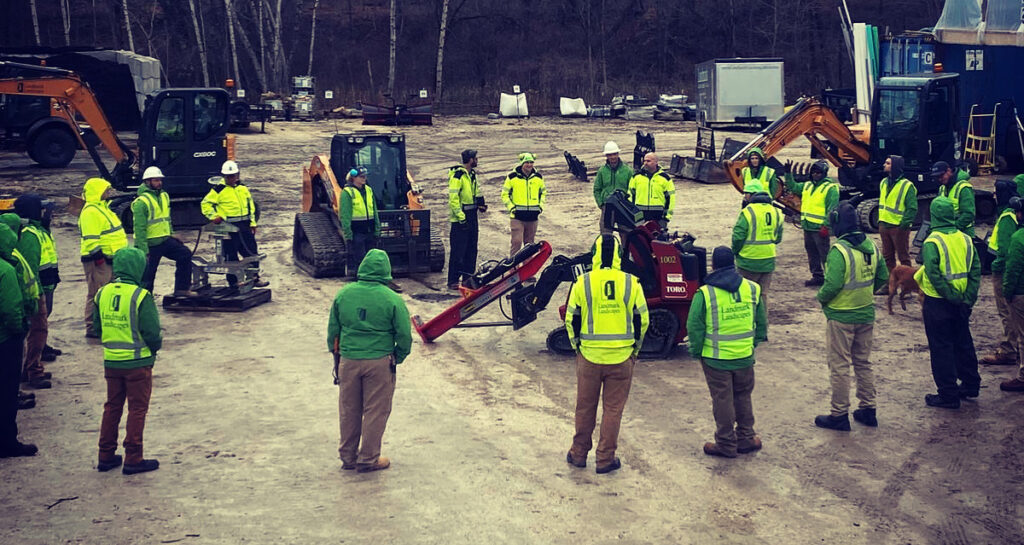 Where We are Going
Landmark aims to build on its thirty plus years of experience to create a nationally recognized organization. As a company we will build on our practice of implementing the latest methods of service and utilize the most technologically advanced tools to get the job done. We strive to create opportunities for our team members to advance their careers and be the best they can be. The expectations for Landmark Landscapes are high and we come to work every day to advance in the direction of our dreams.
If you are looking for an opportunity to make a difference and maximize your potential in the horticulture and landscape construction industry, then Landmark Landscapes just might be the place for you. Apply today and take the next step of your Landmark Landscapes journey.