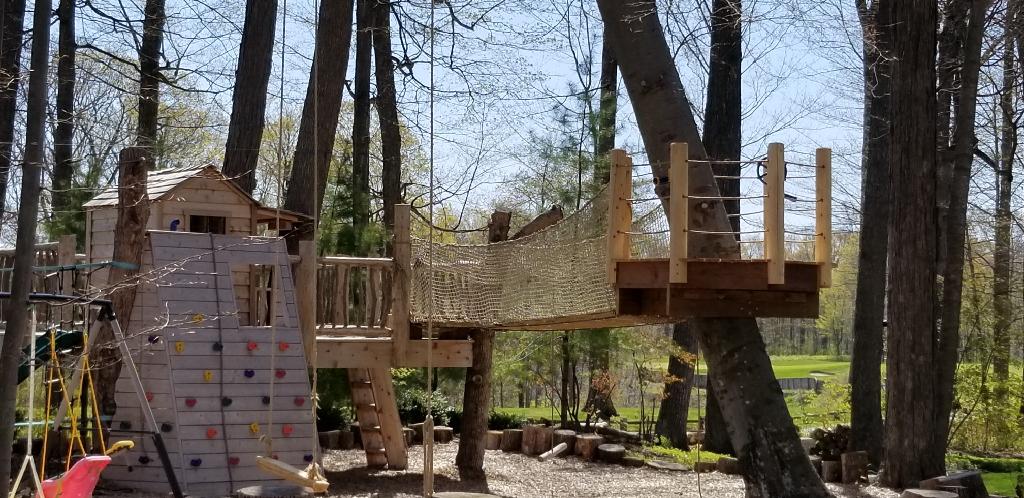 Our client approached us wanting us to create an outdoor play structure for their children. Their goal was to create a unique play area where their children could unlock their imaginations and make memories. What Landmark Landscapes created for our client is a fun-filled whimsical play structure. As a result, their children will create lifelong memories.
Whimsical Play Structure Awarded Gold by WLCA
In November 2022 Landmark Landscapes entered this project into the Wisconsin Landscape Contractors Association (WLCA) Awards of Excellence competition. In late February we learned that this project was awarded a Gold Award of Excellence by the WLCA. A distinction we are very proud of.
Dream Project for Landmark Team Member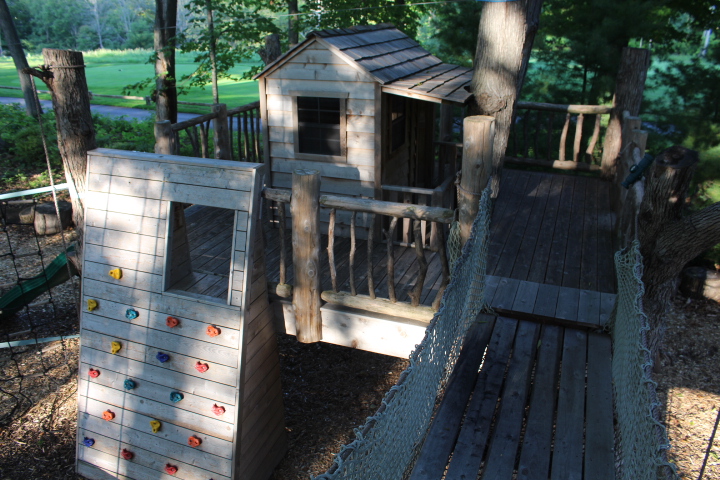 This project presented us with an opportunity to fully utilize the craftsmanship and creativity of one of our team members with carpentry skills and a childlike imagination. Above all, a project in which one is navigating the forest has its own rhythm and flourishes out of concept rather than a point-by-point design. Henceforth having the talent on our team to execute a literal design-build project was a boon for the client and us.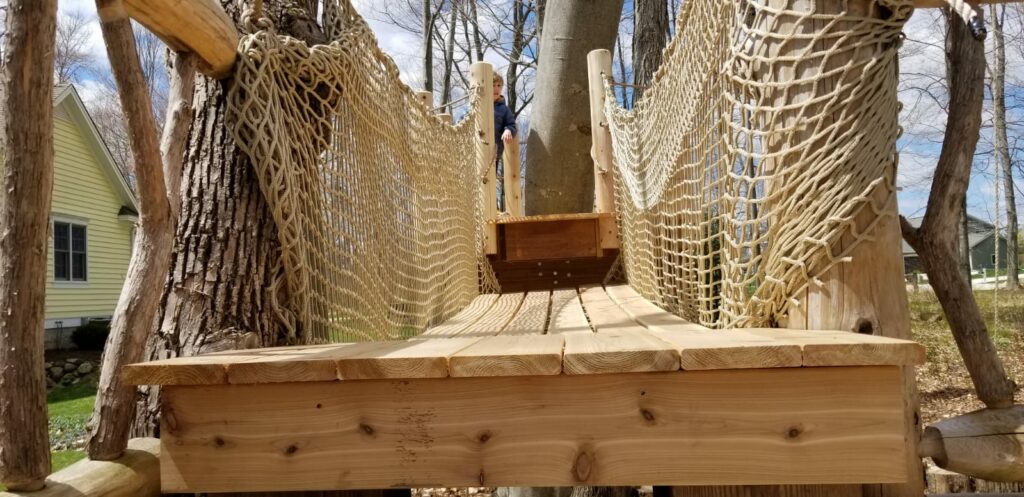 Overall this was a challenging project. The combination of working with both dimensional lumber, logs, branches, and stumps coupled with a number of kit-type features made the project an arduous endeavor.
The aesthetic was meant to be rustic, natural, and whimsical. Construction techniques included using rope railings in some segments of the project. Whereas in other portions, for example, the railing of the deck surrounding the tree house. This was constructed from cedar branches and logs using mortise and tenon joints used to fasten the spindles to the hand-hewn cedar logs.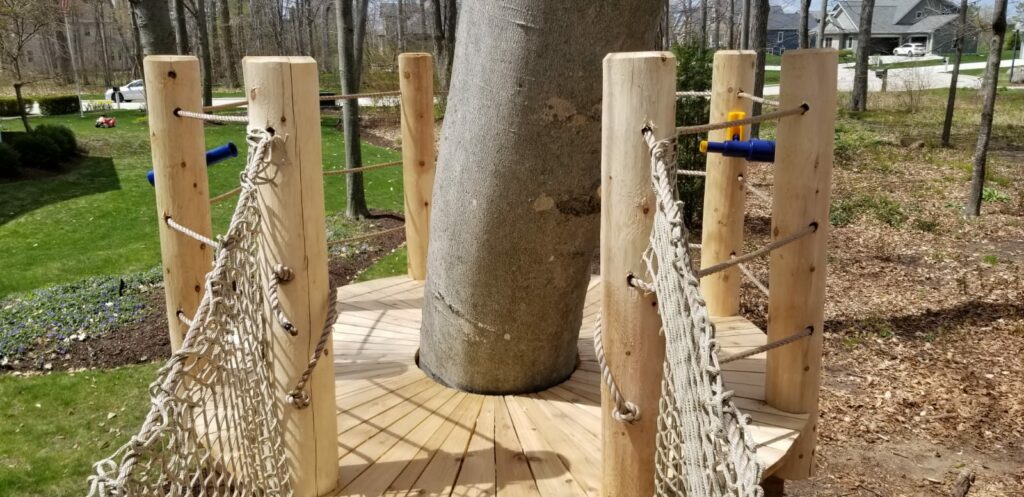 All told the outdoor play structure is comprised of a Tree House and Deck with Trap Door, Crows Nest, Two Slides, Rope Bridge, Climbing Wall, a Swing, and Ninja Course. The entire play structure is enveloped by a nature play area that is made up of stumps and logs with a mulch floor.
Are You Considering a Whimsical Play Structure?
As you might imagine this unique play area and structure is a magnet for all the kids in the neighborhood. They are literally drawn to it. For that reason, as we were constructing this structure safety was always at the forefront.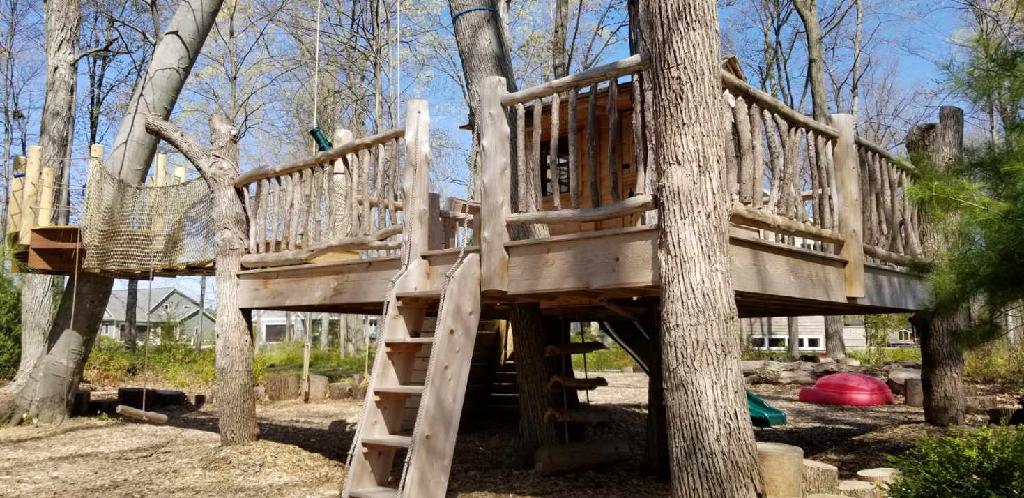 In terms of the success of a project, this was a great achievement. Number one, the client and their children are extremely happy. Secondly, the carpenter on our staff who constructed the structure views this project with immense pride.
Contact Us
Landmark Landscapes of Sheboygan Falls, WI is a full-service landscape company. Based out of Sheboygan County, we are centrally located and uniquely positioned to service the areas of Sheboygan, Elkhart Lake, Fond Du Lac County, Green Lake County, Ozaukee County, Manitowoc County, and Door County. We can manage your property with our Total Property Care system, and design and build projects large and small. Contact us today at 920-467-6442 to learn how we can care for you.