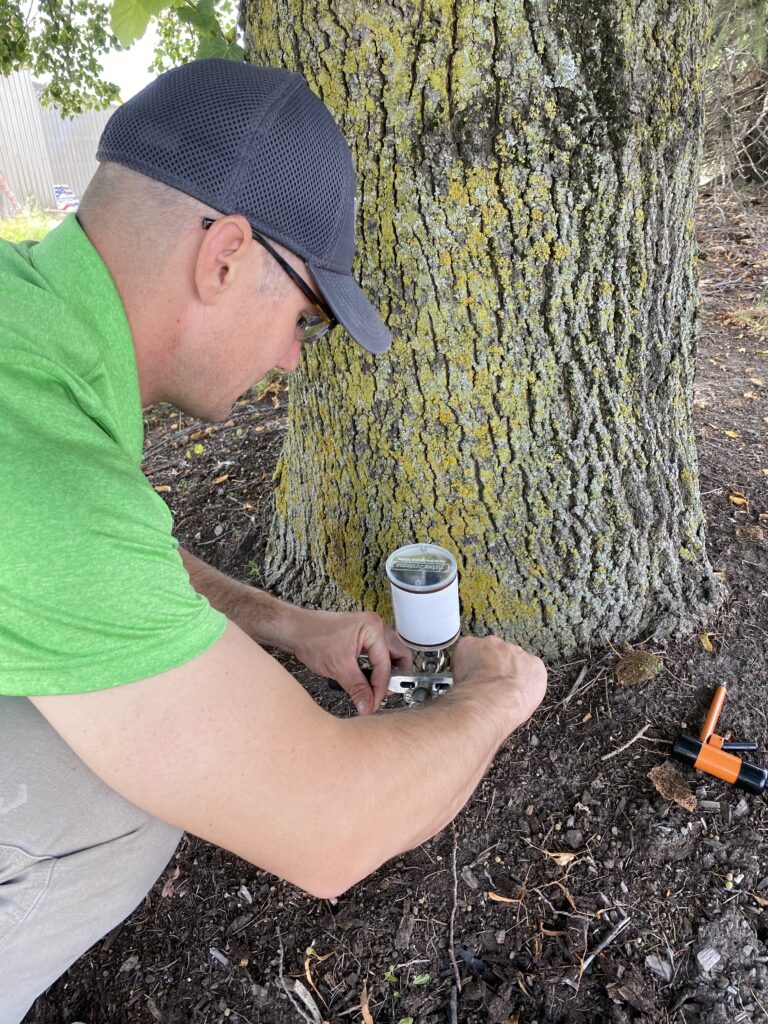 Are my trees sick? What is wrong with my trees? Why do the leaves look like they do? Are my trees dying? Is there a way to improve the health of my trees?
If you are asking these questions, you are not alone. Many people notice their trees under stress. There are a number of reasons trees can experience poor health. Trees can suffer from a variety of ailments that range from insect damage, bacteria, fungus, scale, wilt and many more. The good news is that in many cases the poor health of a tree can be reversed. 
Trees Add Value to Your Property
Trees add an immense value to your property. They add beauty and seasonal interest, provide shade, block from wind, neighbors or unsightly views. And as we know none of this happens over night. Trees can take decades to grow and mature.
The expense of replacing trees on your property can cost thousands of dollars. When you consider the cost of removing the dead trees and the replacement expense of new trees it all adds up quickly. Not to mention the time it takes for new trees to grow. So an inexpensive option to preserve the trees on your property is a good value. 
What is Ailing Your Trees?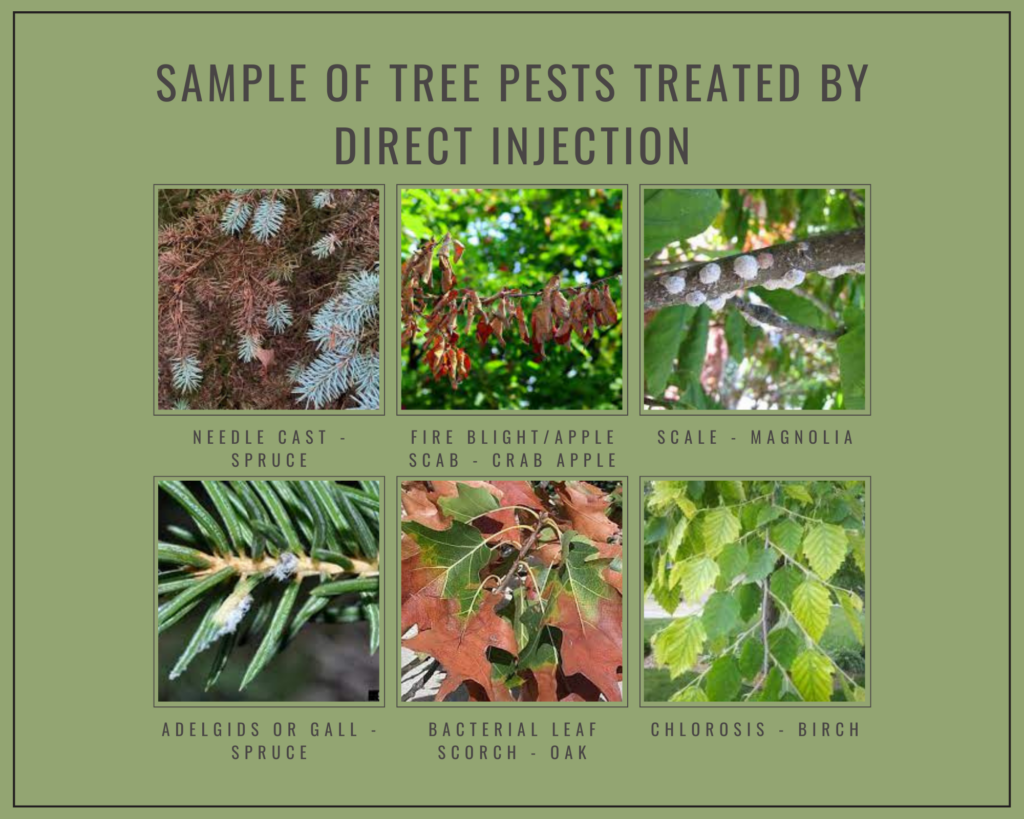 As mentioned before, if your trees appear to be in poor health, there are ways to address the issues. First and foremost the root of the problem needs to be determined. For example, if the leaves of your Birch or Linden tree are looking like a doily typically found on your grandmother's buffet you might have Japanese Beetles.
It's also important to know that preventative care can help prolong the life of your trees. If you are reading this in Southeastern Wisconsin you are likely aware of Emerald Ash Borer. There are treatments to help your Ash trees fend off this threat.
Environmental conditions can also lead to tree stress or simply poor performance. The summer of 2022 has been warm and relatively dry. Coupled with a winter with low snow totals can put drought stress on your trees and shrubs. A telltale sign of drought stress is early yellowing and drop of the leaves.
Damaged and yellowing leaves will not be providing trees with the energy they need to emerge and flourish next spring. Drought can also affect the root system, causing anemic conditions and possible root system collapse. Feeding your trees in the fall can help them recover and perform as expected the following year. 
Plant Health Care & Tree Management
Landmark Landscapes approaches plant health care and tree management from a holistic perspective. As was laid out above, trees can suffer from a variety of ailments.The first step to finding a cure for your sick or stressed trees is to diagnose what ails them.
After contacting us you will be assigned an Account Manager who will come out and observe the tree and work towards diagnosing the root of the trouble. After determining what is causing the problem the account manager will put forward a solution. Once you have signed off on the proposal one of our Technicians will treat the tree using Direct Injection Technology.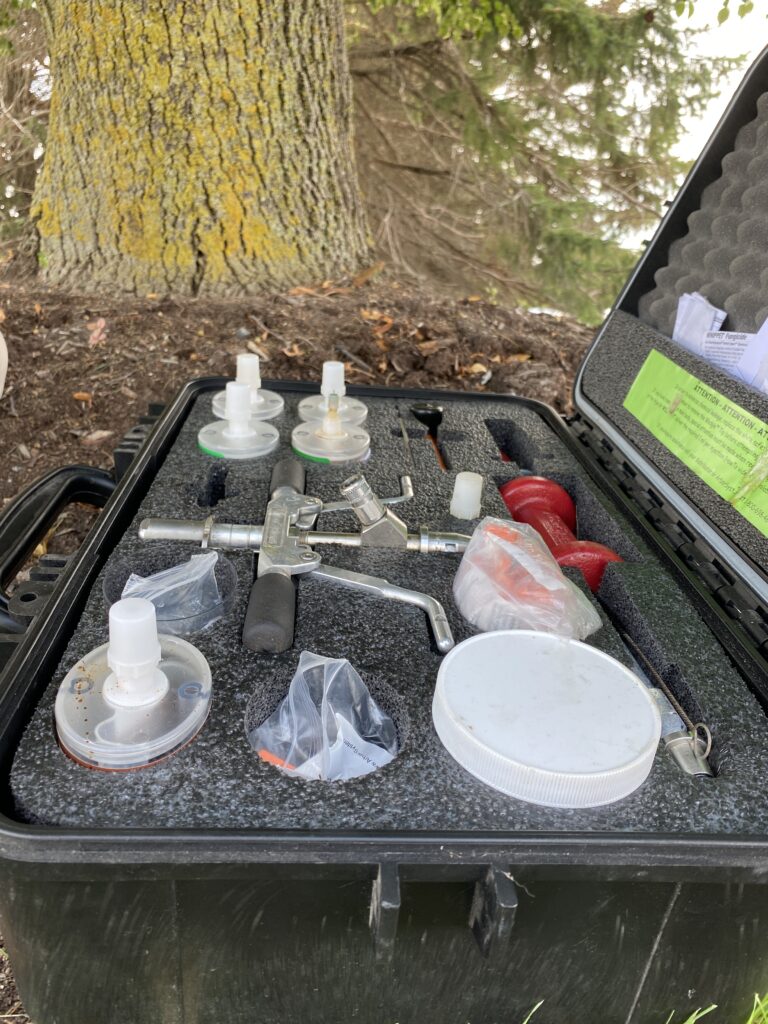 Tree injections are designed to administer antibiotics, nutrients, and treatments directly into the tree's vascular system. Utilizing direct injection technology faster and more effective results are achieved. This method is typically more cost effective than traditional spray methods and has a reduced impact on the environment.
Contact Us Today 
Contact Landmark Landscapes today to take the first step towards healthier trees and peace of mind.
Landmark Landscapes of Sheboygan Falls, WI is a full-service landscape company. Based out of Sheboygan County, we are centrally located and uniquely positioned to service the areas of Sheboygan, Elkhart Lake, Fond Du Lac County, Green Lake County, Ozaukee County, Manitowoc County and Door County. We can manage your property with our Total Property Care system, design and build projects large and small. Contact us today at 920-467-6442 to learn how we can care for you.