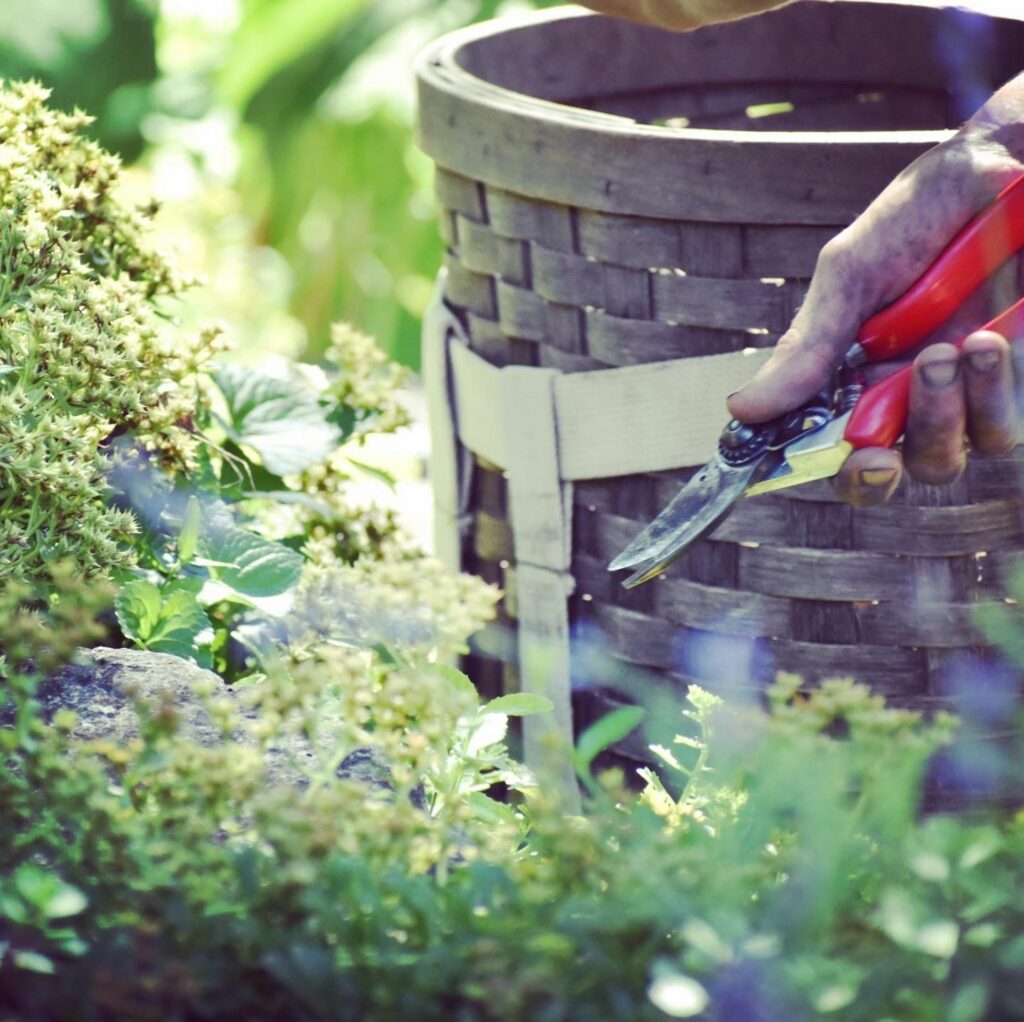 Spring is the time of renewal – allow Landmark Landscapes to cleanup and prepare your gardens and landscape for the upcoming growing season.
For many, the last time any time was spent in the yard was October or November of last year. Since then winter has had its way with the gardens and landscapes. The Spring Cleanup is a time to reset and ready the yard for months of relaxation, play and entertaining guests.
Below are essential tasks to creating healthy gardens and landscape.
Remove Debris from Garden Beds
Since the fall cleanup, leaves and sticks and even garbage have collected in your garden beds and potentially inside shrubs within those beds. The Spring Cleanup is the time to blow out and clean out and dispose of the debris within these beds.
Cut Back Perennials and Ornamental Grasses
There are many perennials and ornamental grasses that are left standing for winter interest or to provide substance for the birds that don't travel south for the winter. The spring clean up is the time to cut these plants back to allow for them to flourish over the coming months. The earlier these plants can be cut back the better. This way there is not a concern about cutting the new emerging new growth. This is also the appropriate time to trim and prune semi-evergreen plants such as Heuchera.
Appropriately Prune Trees and Shrubs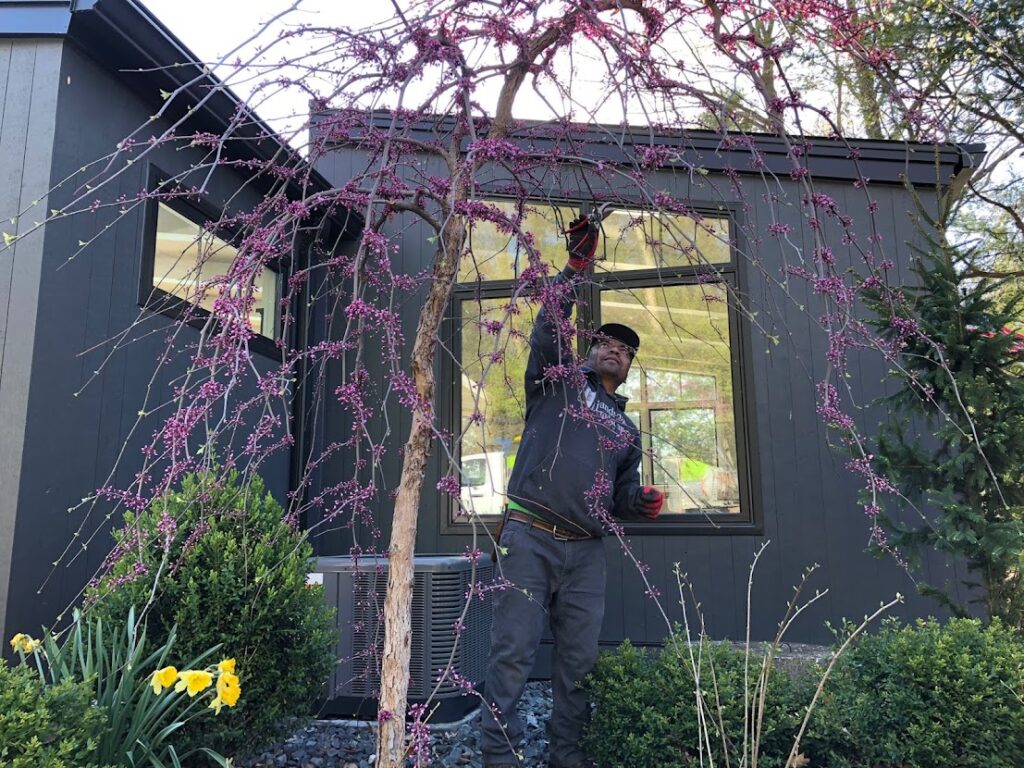 Many Spring blooming trees and shrubs set their buds in the summer or fall of the previous year. Knowing which plants can be pruned in the spring is very important. Trees and shrubs that can be pruned in the spring should be trimmed to set them up for success for the upcoming growing season.
Pre-emergent Weed Preventatives
Once you have the debris cleaned out from garden beds and have cut back perennials, ornamental grasses, pruned trees and shrubs applying an organic fertilizer and if you wish, spreading a pre-emergent weed preventative is the next course of action. An organic fertilizer such as milorganite will give your plants a dose of energy to begin the season's growth. Applying a pre-emergent will go a long way towards suppressing the weeds in your garden.
Rose Care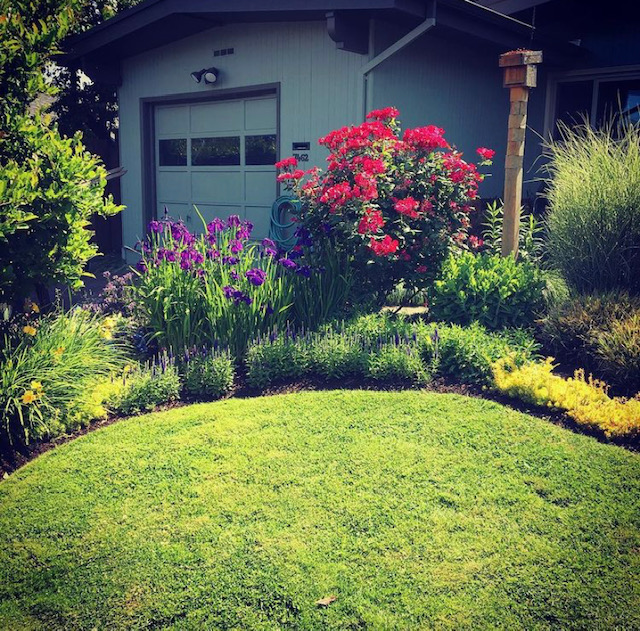 Spring is the perfect time to prune roses and feed them for the upcoming growing season. If winter protection was installed in the fall, this is the time to remove it. Spring time care will help ensure that your roses reward you with an abundance of color throughout the summer. dennis@weber-oil.com
Install Stakes
The spring cleanup is an ideal time to install the grow-through stakes for perennials and peonies and so on. Installing these when the plants are small allows the plants to do as the name suggests and grow through the stakes. This allows the plants to flourish unimpeded and without injury that could occur when trying to install the stakes after the plants have begun to grow.
Cut an Edge and Install Mulch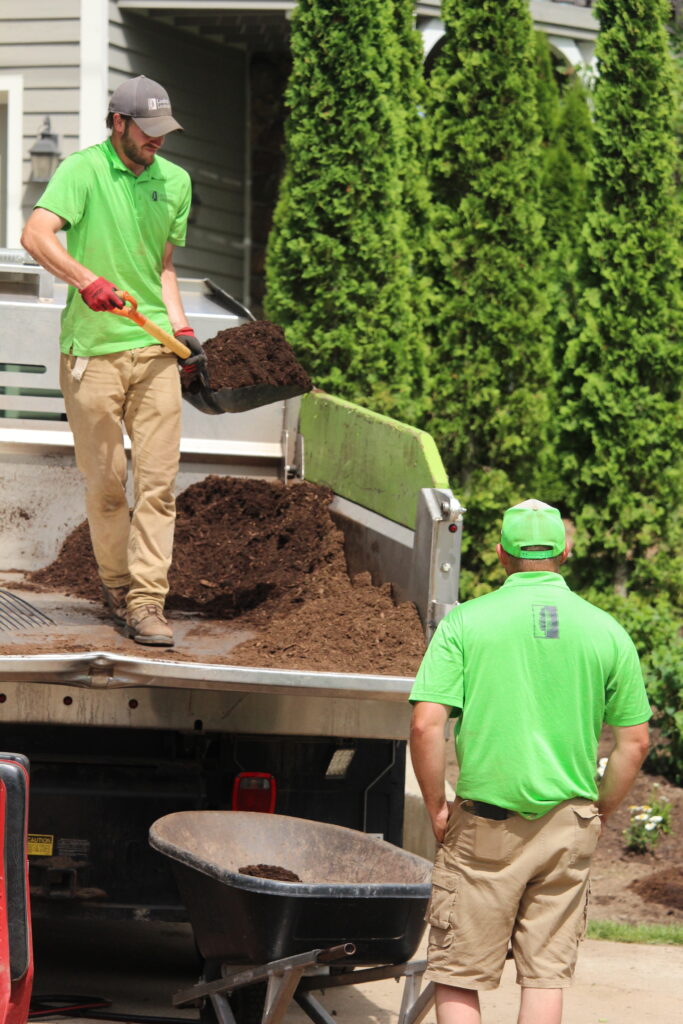 After the cutting back of perennial plants and ornamental grasses is complete and all the debris has been removed it's time to re-establish the bed edge and mulch the planting beds. At Landmark Landscapes we typically mulch with double ground hardwood mulch. If you have established planting beds that get mulched on a consistent basis, top dressing the mulch is likely sufficient. For new beds installing a 2-3" layer of mulch is recommended.
Landmark Landscapes of Sheboygan Falls, WI is a full-service landscape company. Based out of Sheboygan County, we are centrally located and uniquely positioned to service the areas of Sheboygan, Elkhart Lake, Fond Du Lac County, Green Lake County, Ozaukee County, Manitowoc County and Door County. We can manage your property with our Total Property Care system, design and build projects large and small. Contact us today at 920-467-6442 to learn what our pros can do for you.